District 7
---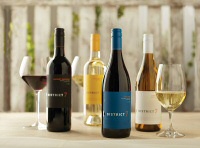 California is divided into 17 grape crush districts, encompassing a wide range of climate, terrain and soil types. District 7 is Monterey County, home to world-class vineyards and exceptional wines.
What makes District 7 so special?
District 7, aka Monterey County, has the longest growing season of all of the districts, a result of the chilled marine air from the Monterey Bay that rushes down the Salinas Valley each day. For cool climate varietals like Chardonnay andPinot Noir, we source the grapes from our estate vineyards in the northern reaches of District 7, where morning fogs often linger until mid-day.This allows the intricate fruit flavors to develop while preserving crucial acidity. For sun lovers like Sauvignon Blanc and Cabernet Sauvignon, we grow the grapes on our estate vineyards located further south in District 7, where sunshine-filled days are followed by the cooling maritime influence in the late afternoons.
The long growing season of District 7 allows us to "let it hang". Longer time on the vine means the grapes ripen slowly and evenly. Deciding when to harvest is all about finding the sweet spot, that perfect moment when the grapes have reached full flavor development. At District 7, we let it hang until the grapes are ready. The result is vibrant fruit, complex flavors and excellent structure.
---
Featured Wines: